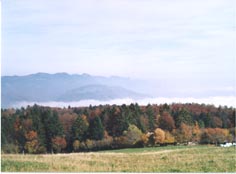 Magglingen is a village situated above the town of Biel, at an altitude of about 900 meters. It is a centre for active people, indeed the Federal Department for Sport is situated in Mägglingen and well-known sports personalities train here.
It offers possibilities for sport and
other pastimes for almost any requirements; hiking, cycling, swimmimg, tennis and racing, or winter sports, such as cross-country skiing and sledging.
It is however also a well-loved excursion point for young and old, toget back to nature and escape the often stressful daily round.
When the weather is good the view ranges over Seeland, with the 3 blue lakes, on to the snow-covered alps, with the well-known group of Eiger, Mönch and Jungfrau!